The Sauters of Syracuse, NY
Syacuse City Hall, late 1800's

Heinrich Sauter and Louise Rettig had at least two sons: Johann Jacob Sauter, (born January 22, 1803 and christened January 28, 1803 in Evangelisch, Kusel, Pfalz, Bayern) and Heinrich Wilhelm Sauter (born October 23, 1805, christened October 27, 1805 in Evangelisch, Kusel, Pfalz, Bayern). Frederich Jacob Sauter (FJS) was born on April 2, 1830 in Civil, Kusel, Pfalz, Bayern (and christened April 11 at the Evangelische Stadkirsche, Kusel, Pfalz, Bayern. He was the son of Johann Jacob Sauter and Carolina Elisabetha Fuchs (married July 23, 1829 in Civil, Kusel, Pfalz, Bayern). Carolina (born May 18, 1807) was the daughter of Peter Fuchs and Juliana Schmoltz (married January 8, 1795 in Evangelisch, Thallichtenberg, Rheinland, Preussen). FJS probably came to the US with his younger brother Ludwig (born July 14, 1835 in Civil, Kusel, Pfalz, Bayern) in around 1852. Ludwig (now calling himself Lewis) and Jacob had a paint business in Syracuse (in the 1870 census they're listed as paint dealers, and they had ads and listings in the Syracuse Directories every year until the mid 1870's). Their shop was at 56 E. Washington Street in Syracuse, as well as at 18 Mulberry. This was, I beleive, a place on the corner of the block, and in some listings they have it as the "corner of Mulberry and Washington." Mulberry was later renamed State Street, and the corner of State and Washington streets - on the even side of Washington - is a parking lot now. Lewis (or Louis) apparently moved to Allentown PA in 1872. He died January 6, 1876, and the following news item appeared in the January 8, 1876 edition of the Syracuse Union (a German language weekly newspaper):
Mr. Louis Sauter, a man known to almost every German (inhabitant) of this town, who owned a painting business in East-Water-Street some years back, and who moved to Allentown, Pa. four years ago, died on Monaday of this week in the latter city. The deceased leaves behind a widow and three minor children in very needy circumstances.
(Many thanks to Friedrich Huettenberger for supplying the translation. If you want to have a look at the "original" — if you can call a scanned printout from microfilm the original — you may do so here.)

Anyhow, one way or another, that was the end of L & J Sauter. In the 1880 Federal Census, Frederick is listed as living at 9 Irving Street, and his occupation is listed as Painter. By the 1887 - 1888 and 1888 - 1889 Syracuse Directories, he's listed as a Sign Painter, and in the latter, it lists him as Frederick J. Sauter Jr. By the 1889 - 1890 Syracuse Directory, he's listed as living at 103 Irving and his occupation says Painter. Also listed in that directory is George Sauter (the second-oldest son of FJS), who is listed as being a printer at 405 S. Clinton St., and boarding at 103 Irving. There are a lot of printers whose work addresses are listed as 405 S. Clinton, and the businesses listed there are Mason & Rockwell, Sporting Goods Gazette, and H.P. Smith and Co. (Graphic). Anyhow, according to a brief note in the Syracuse Herald of May 27, 1892 (the day after he died), FJS was an "old resident" of Syracuse, and had been a painter there for forty years. So, whether he came over when he was 20 or so or whether he came over earlier, I don't know (yet). The paper says FJS died at his home on Irving Street (which, I am assuming is the same street that's called Irving Avenue now, but who knows?) of apoplexy, and his death certificate says he died of Appoplexy Valvular Disease of Heart (which I guess is a stroke and a heart attack. Either way, he wasn't too old (just 62).

FJS left a wife (Augusta Emma (Baker) Sauter, born in New York State on Jul 9, 1844), three sons (William, George, and Louis) and six daughters (Eva, Carrie (for Caroline, I believe), Sarrah, Augusta, Frances, and Gertrude).

Frederick J. was buried at Rose Hill cemetery in Syracuse (Rose Hill once was Syracuse's largest cemetery, with over 10,000 people buried there between 1841 when a little over twenty-two acres were purchased for the cemetery and 1935, when the last burial took place).

Augusta Sauter was the daughter of John C. Baker (a stone mason, born September 7, 1818 - possibly in Pennsylvania, maybe in Cortland - died Jan 26, 1881 of consumption while living at 10 1/2 Catherine St. in Syracuse) and Emma P. Chambers (born April 3, 1824, possibly in England, died February 8, 1877 in Syracuse). John's mother was named Sarah, and she died in 1861 in Syracuse. The Bakers are all buried in Oakwood cemetery. Augusta Sauter died on June 29, 1911 of "acute indigestion."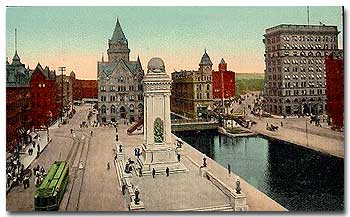 Clinton Square, Syracuse c. 1910

At some point, Augusta moved the family over to 411 Fabius Street, which would have been pretty much on the corner of Fabius and Niagara Streets on Syracuse's near west side. The house is no longer standing, having made way for public housing a long time ago. At any rate, by the time of the 1900 federal census, Augusta was living on Fabius Street with Sarrah (it looks like Satie on the census records, but it was Sarrah on the 1880 census, so who really knows for sure?), Louis (by this time, Louis was 23 listed as a harness maker), "Gussie" (listed as a paper box maker), Frances, Gertie, Eva (now listed as Eva Buller, a widow working as a paper box maker, and Eva's two daughters Latie? And Bessie?), George (who was still a printer and now married to Carrie, born in 1874, and with a son named Frederick, born in Jun of 1898. By 1900, Carrie had married Andrew Paul, and they were living over at 810 Third North Street. Andrew was a clerk at a fruit store.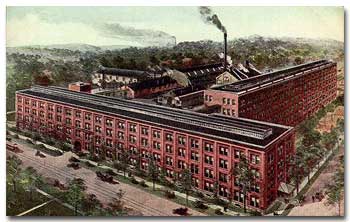 Franklin Automobile Plant, c. 1910

Louis went on to work at the Franklin Auto plant, and marry Fanny Phillips (they got married somewhere around 1902). In the 1910 census, they're listed as living at 203 Boyden Street. Louis is listed as a Leatherworker in the auto industry. In 1913, they were living in the upper flat at 121 Hartson Street (which, by the way, is still there). He came home from work on the evening of November 7 and found the front door locked. He made his way in, only to find Fanny locked in her bedroom with the windows sealed up tight. Louis broke the door down and found Fanny, dead, with the gas jet wide open. The newspaper article indicated that she'd been treated for "melancholia" for several months.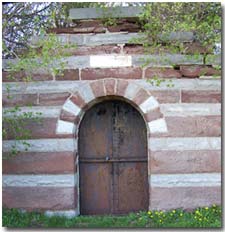 Vault at entrance to Peterboro Cemetery

Louis eventually married Ethel J. O'Toole (probably in October of 1916). In 1900, Ethel was living on what looks like Alice Street (it's pretty hard to read, though, on the census form). It appears to have been in the Hawley Ave, Henderson St., and Oak St. area. Anyhow, it isn't there anymore, I guess. Ethel was the daughter of Thomas O'Toole (an Irish immigrant who was born in 1851, and came over as a baby in 1853, and whose occupation is listed as cartman) and Ellen M. O'Toole (her nickname was Nellie). Nellie was born in Knoxboro, NY. Her parents were William (born in New York) and Anne (born in Wales) Perkins. In the 1870 Census, they are all living in Knoxboro, NY. Nellie's older sister, Mary (who would marry Burton Armstrong on 11 Sept 1872, and die in 1915), was working as a domestic servant in another household (in the 1860 census, Mary - then age 8 - had a baby sister, Josephine, only 4 months old; she apparently didn't live to be listed in 1870). Along with Nellie, the other chidren in the house were Elizabeth (age 10), George (age 5), and Charles (age 3). Nellie's obituary says she was survived by a brother, George Reese. Apparently times were hard for the family back then, and George went to live with another family. I don't know what became of the other children. Tom and Nellie were married for 18 years at the time of the 1900 census. Their first child, Willie, was born in Dec 1882, but he died little more than a month later. Also in the household were 16-yr-old John H. O'Toole (a plumber), and another daughter named Mary A. (b. 1885). Mary would go on to marry Stephen Appleby, and would eventually move to Buffalo, NY. It was at her house that Louis Sauter and his family would stay when he would go to Buffalo for his cancer treatments, and where he would eventually die in 1939.

"Gussie" Sauter went on to marry Everett Hull. She died on 11/24/1947 of a cerebral hemorrhage. Her last residence is listed as 424 Boyden Street, which is still there. It's right around the corner from where Louis and Ethel Sauter lived at 205 Mariposa St. Gussie had a child who she apparently named after her two youngest sisters: Frances Gertrude Hull. Unfortunately, the child died. Her headstone says 1910 - 1910, but the Woodlawn records say she died 8/08/1911. I don't know which is right. Gussie is buried at Woodlawn also, of course. Everett is also buried at Woodlawn, in the same section as the others, but he doesn't have a tombstone. He died in Deland Fla., on 5/04/1960 at the age of 81. His last address is listed as 101 Meredith Ave, Nedrow. Ernest L. Rahrle is buried in the same grave as Everett Hull. His next of kin is listed as Fannie Hall Rohrle (which is actually Fannie Hull Rahrle). Ernest Rahrle died 7/21/1987. Fannie passed away on Oct 24, 1999 and is buried in the Maple Grove Cemetery in Elbridge, NY.

Louis and Ethel had two children, Frederick "Bud" Sauter and Louise Sauter. Bud (or Fred; anything but Frederick) married Margaret ("Peggy") Flood in 1946 and they had four kids; Timothy, Daniel, Barbara, and Patrick. Fred died September 9, 1994, and Margaret died on July 6, 1999.

Louise married Edward Richmond and had two children: Dorothy (she passed away on August 1, 1999) and Carol (who passed away on November 12, 2000). Edward Richmond died, and Louise married Harold ("Shorty") Barner, who drove a city bus in Syracuse. He died on June 9, 1982. Louise passed away on April 29, 2002

Well, there's more, of course, but I'll have to save it for another time.

If this sounds familiar at all to anybody, or if you have more information, then feel free to shoot me an e-mail and let me know what you've got. If you have a minute, please stop by and view or sign the guestook.

See ya,